By: Amanda Guarragi
Pixar films never fail to make anyone emotional. The filmmakers find a way to pull at your heartstrings every single time. Luca takes place along the Italian Riviera, in Portorosso. Under the sea, there is a whole world of fish, or rather, sea monsters. There are old legends surrounding the sea monsters, and if they were to ever be seen by the townspeople, they would be killed on the spot. Director Enrico Casarosa dives into Luca's (Jacob Tremblay) family dynamic. His mother Daniela Paguro (Maya Rudolph) warns him of the dangers of the surface world. She hovers over him and is overprotective, prompting him to take matters into his own hands.
Luca is Pixar's most beautiful film to date. Each new addition to the Pixar library just improves upon the last release. The animation style is a bit different than others but it just perfectly captures Italy. Being Italian myself, this film felt like home for me. From the piazza in Portorosso, to the names of Mrs. Branzino, and yes, Giuseppe being used on-screen, to using new phrases like "Silenzio, Bruno!", to even showing the espresso bars, when it's break-time at 2:00 p.m. It is truly an Italian film, but apart from that, it is a movie about acceptance, adventure and finding your identity.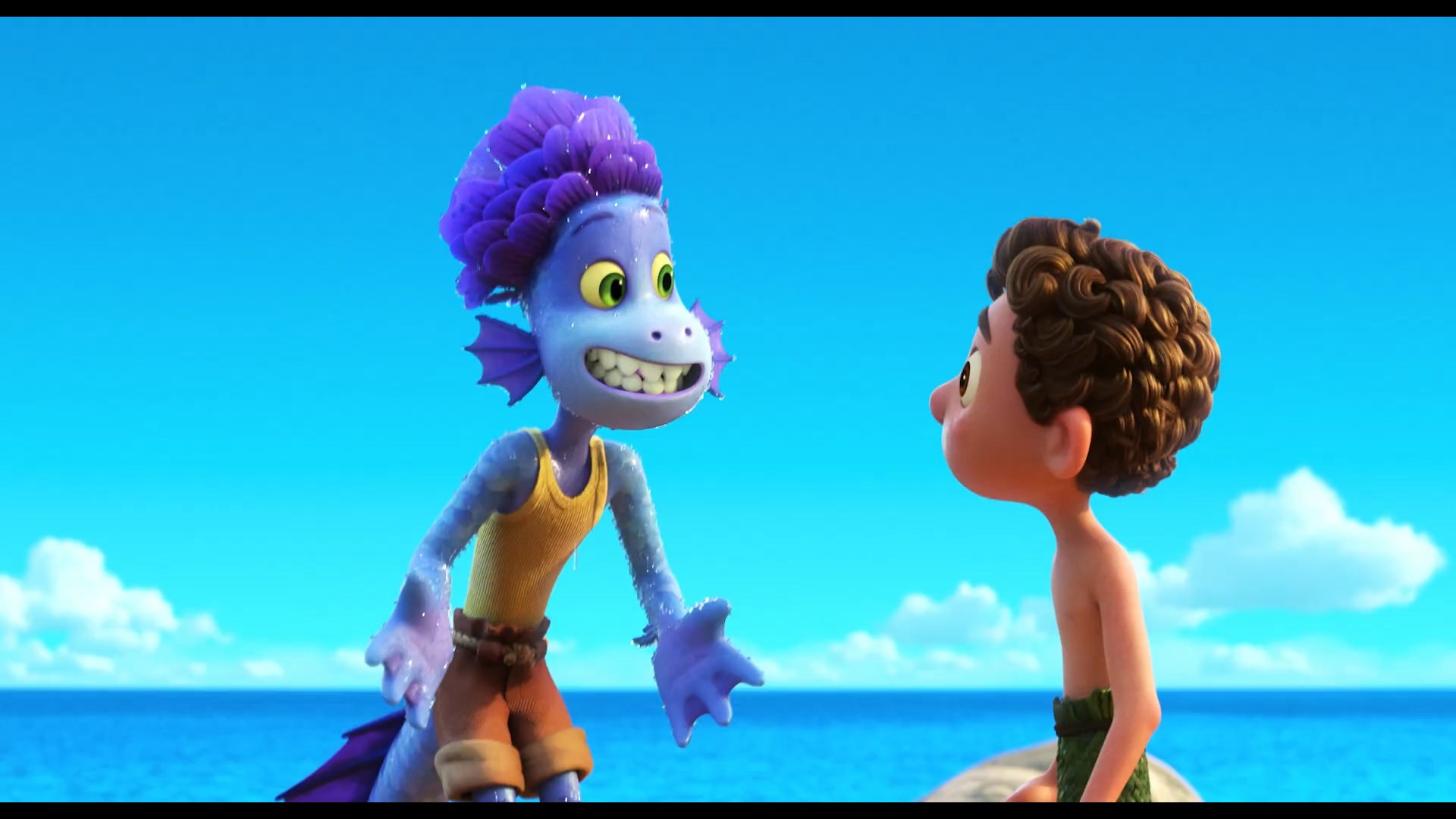 Luca's dynamic with Alberto Scorfano (Jack Dylan Grazer) is interesting because of how they help each other. Alberto is a sea monster, who lives alone on the surface. Luca is just testing the waters, being on land, learning from Alberto. The budding friendship is beautiful to watch because they pulled each other out of their shells. In their loneliness, they built a wall surrounding their true selves, out of fear of not being accepted by others. Alberto is closed off because of his past and Luca is afraid of everything because of his mother. Which, in reality, is how Italian mothers take care of their children, especially their sons.
As they make their way to Portorosso, in search of a Vespa, they meet a young girl named Giulia (Emma Berman), who is energetic and very optimistic. In order to get this Vespa, Giulia suggests entering a triathlon, to win the prize money for the Vespa. The trio join forces against the arrogant Ercole Visconti (Saverio Raimondo), who has won many triathlons before. The film is pretty straightforward but the power of friendship, and love for adventure, will bring you into the world of these characters. What Casarosa does so well is gear this film towards a younger audience with dreamlike sequences and vibrant colours in his imagery, all while carrying a powerful narrative about individual growth among friends.
Luca is one of the funniest Pixar films to date. It is light, energetic, heartfelt, and has a wonderful soundtrack to go with it. Not only is the score great but the Italian pop songs that were chosen worked so well. The film will have you laughing, dancing, and of course, tearing up during certain scenes. On the surface it may seem like a fun summer film but it does pack an emotional punch. Everyone has had issues with their friends and the struggles shown in this film are universal. It is truly one of Pixar's best and it will always have a special place in my heart.